Highlights
Exhibition highlights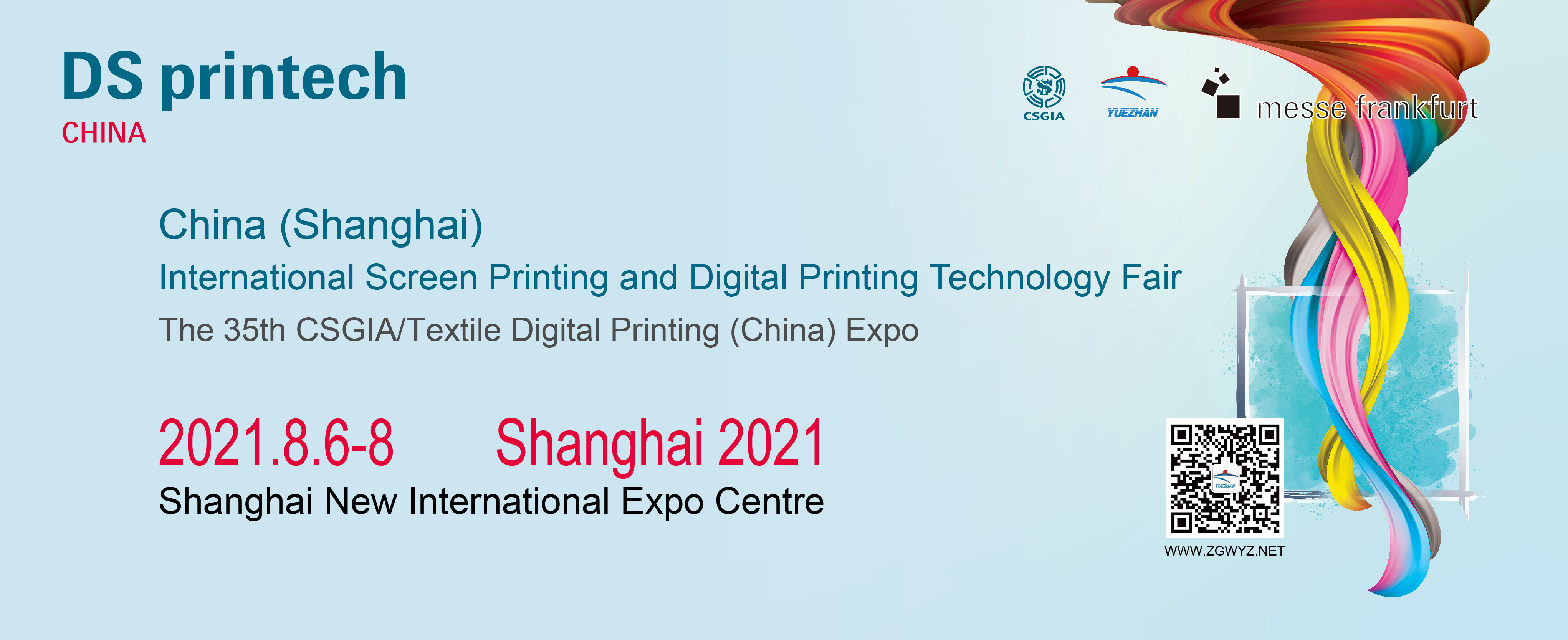 The 35th Asia Pacific Screen Printing and Digital Printing of 2021 DS Printech China will be held in Shanghai New International Expo Center (Pudong New District) on August 6 to 8, 2021, with the exhibition area up to 30000 square meters, which will attract more than 500 enterprises from all over the world. The exhibits will mainly include digital printing, screen printing, industrial digital printing equipment, materials and technologies.

The exhibition will be jointly organized by China Screen Printing & Graphic Imaging Association (CSGIA), Guangzhou Teyin Exhibition Service Co., Ltd (TEYIN) and Mess Frankfurt (HK) Ltd. As a well-known exhibition recognized in the national digital printing, screen printing and UV printing industries, the exhibition has been supported and assisted by a great number of chambers of commerce and business associations at home and abroad, and will attract more than 500 international famous brand enterprises to show their latest research and development achievements. By that time, famous experts and guests from both inside and outside the industry will be invited to interpret the industry, and jointly discuss and exchange practical technologies and methods of the industry, and provide support in business operation and timely adjustment of strategy and tactics.

The exhibition was founded in 1986 and held once a year. It is the third largest silk screen printing, textile printing and digital printing industrial technology and equipment exhibition in the world, hence famed as "the largest exhibition in Asia". The exhibition has been successfully held for 34 times, which is recognized as the "authoritative brand exhibition" in the global industry. 90% of visitors are satisfied with the professional and international operation and scale of the exhibition, and 85% of exhibitors are very much satisfied with the exhibition effects and have participated in the exhibition for many consecutive times.

Five professional exhibition areas: screen printing, textile printing, digital printing, overseas exhibition area and intelligent manufacturing exhibition area
Joint efforts of the three parties: Joint efforts in cooperation and alliance by China Screen Printing & Graphic Imaging Association (CSGIA), Guangzhou Teyin Exhibition Service Co., Ltd (TEYIN) and Mess Frankfurt (HK) Ltd will help upgrade and transform the industry, open up a broader overseas market, greet the era of trillions of dividends, and help exhibitors usher in a better development.

Historical accumulation and ample resources: As a professional platform promoting screen printing, digital printing and industrial digital jet printing industries for more than 30 years, the Exhibition has broken records once and again in real-time resources, conference scale, customer upgrade, radiation range and international influence. With the best effect and strength to enhance the industry, it provides the industry with clear highlight and instruction.

New mode of Online + offline exhibition to create everlasting exhibition service: The exhibition is launched in the form of Online + offline combination integrating online small programs, online live broadcast and other emerging technologies, and organizing "online exhibition" to promote the exchange and cooperation and common development of upstream and downstream enterprises in relevant industries, and seek for new development opportunities in crisis and challenges.

Predicating the future development of the industry and sharing the new trend of brand development: The exhibition has organized many wonderful expert reports, professional seminars, technical lectures, domestic and foreign industry boutique exhibition activities. It gathers industrial elites, predicts industrial development trend and shares new products.