igh-speed digital printers capable of printing 70 meters per minute (m/min) now are competitive with rotary screen printing in terms of speed and cost, and offer an advantage when printing shorter runs or multiple colorways. Ink-jet printing garnered excitement at ITMA 1999, but low production speed was a major limitation of the digital printers available at that time. At ITMA 2003, digital ink-jet printing machines demonstrated printing speeds of 150 square meters per hour (m
2
/h). However, even with increased speed, the printing technology was suitable only for short to medium production run lengths, and was well below the speed required for long runs. At ITMA 2007 and 2011, digital ink-jet printing machines had an increased presence, but it was not until ITMA 2015 that the textile industry paid serious attention to ink-jet printing for long runs. Once recognized only for sampling, ink-jet printing onto textiles is rapidly developing into a viable method of printing for smaller run specialty and customized fabrics, as well as for large run productions. By eliminating the screen preparation process, ink-jet printing allows more flexibility in the printing process, provides capability for fine line detail, near infinite number of colors, freedom from repeats and the ability to engineer a print design within a garment or furniture marker. The fine line detail and increased number of colors produce a near photographic image on the textile substrate, enabling new product categories. Currently, ink-jet printers can be classified into four categories based on speeds ranging from 4 meters per hour (m/h) to greater than 70 m/min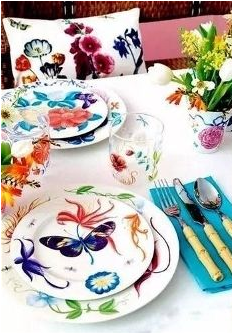 Printheads
The vast majority of digital printers on display at ITMA 2015 utilized piezo-based printheads with companies such as Epson, Fujifilm Dimatix and Konica Minolta, as well as three Japan-based companies — Kyocera Corp., Ricoh Co. Ltd. and Seiko Group — dominating the textile ink-jet printing market. Performance differentiators between the various printheads include variable drop size capability, the range of variable drops, firing frequencies defining the speed at which the heads can deliver color to the substrate, and the printhead's size and number of nozzles. The Kyocera head currently is enjoying the major market share for higher-production printers with installations in MS and Reggiani machines. This printhead has a very high jetting frequency enabling fast printing, and a large printhead measuring 10 centimeters (cm) in length that accommodates more than 2,500 nozzles. Kyocera's printhead has a native resolution of 4 to 19 pL, with integrators such as MS generating drop sizes of up to 72 pL through its drop placement strategies. The Ricoh Gen 5 printhead reportedly is featured on the Durst machines. With a 9-cm-width and 1,280 nozzles per head, the Ricoh Gen 5 printhead is somewhat smaller in size than the Kyocera head. The drop sizes range in from 7 to 35 pL.
The Fujifilm Samba head is used by SPGPrints in its single-pass Pike machine. Fujifilm Samba printheads incorporate a recirculating ink channel system that prevents ink clogging. Featuring Archer technology, a highly accurate print-bar technology, the printheads can jet accurately across a distance much greater than other heads currently widely used in textile digital printing applications. The jetting accuracy of the printheads allows the plates to be positioned 4 mm away from the print substrate, greatly reducing the risk of a head strike. SPGPrints offers a unique arrangement in conjunction with Pike® inks, in which the customer initially will receive a number of spare heads and any faulty heads returned will be replaced free of charge for a period of two-and-half years. Employing MEMS technology, the Samba printhead has a drop size range of 1 to 10 pL and is a larger head with 2,048 nozzles.
The Konica Minolta printhead is featured on the Konica Minolta Nassenger machines. It is a large head with 1,024 nozzles, capable of printing up to eight drop sizes as employed in the Nassenger machine.
The Seiko head was not identified in any of the printers, but has been used in the past by system integrators such as Zimmer. It is a medium-sized head with large variable drop size capability of up to 84 pL.
Epson's new Type-T2 printheads are specially designed to be used with Genesta textile inks. The head has a total of 1,440 nozzles arranged in eight rows of 180 each. Thus, a single printhead is able to simultaneously print in eight different colors at a resolution of 180 dpi; or, alternatively, in four different colors at a resolution of 360 dpi. Another important feature of the new printing heads is their variable dot size, which makes it possible to choose from between levels of color dot heaviness from 3 to 6. The use of these new heads on the Monna Lisa thus allows not only an extraordinary increase in production speed, but also a significant increase in print quality.
Colorants: Pigments
Pigments developed for ink-jet printing typically have a smaller printable range of colors or color gamut, and lower wash- and wet and dry crockfastness. However, ink-jet pigments offer an advantage in that the ultraviolet resistance is higher; and the printed fabric typically does not require post washing, which saves time, money and resources. Improvements in dye chemistry for colorants and pretreatments has led to larger color gamuts, improved hand of printed fabric and improved runnability. A number of notable pigment developments were shown at ITMA.
Three companies — MS Printing Solutions; Milwaukee, Wis.-based Sensient Technologies Corp.; and Kiian Digital, a brand of Italy-based JK Group S.p.A. — launched pigments developed for the high-speed Kyocera heads.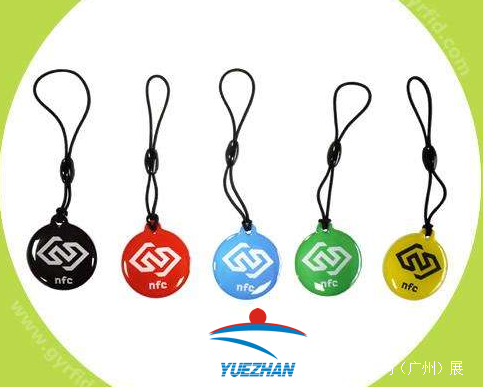 Kiian's Digistar K-Choice series consists of a CMYK set plus an additional six colors — orange, blue, violet, green, gray and red. MS Printing Solutions' Pigmento CMYKRB set was demonstrated in a JPK printer during ITMA, and exhibited excellent runnability.

Other new pigment launches included Velvet Jet from Bordeaux Digital PrintInk Ltd., Santa Clara, Calif.; Onyx™ metallic decorative ink-jet inks from Xennia Technology Ltd., a Sensient company; and Fujifilm Imaging Colorants' Pro-JET TX pigments.
Velvet Jet's Eden latex inks were developed for piezo drop-on-demand wide-format textile printers, and are available in CMYK and light cyan and light magenta. Developed for Epson DX printheads, the colorant is made up of a pigmented water-based polymer dispersion capable of direct printing onto cotton, polyesters and blends as well as transfer printing onto polyester and polyester blends.
Another notable development was Wichita, Kan.-based DuPont's Artistri® PK2600 inks developed for cotton textile roll-to-roll printing on EFI Reggiani printers. The new inks offer color and hand comparable to reactive printing, and excellent fastness performance without steaming or washing production steps that hinder turnaround times. "When two market leaders come together to collaborate on a high-growth area of technology as important as pigment inks for roll-to-roll printing, it's a powerful combination," said Ted Zhi, textile market segment leader, DuPont Digital Printing. "We expect the new DuPont Artistri PK2600 inks and the innovative printing process developed by EFI Reggiani will considerably enhance the role of pigment inks for high-speed digital printing applications in the future."
Colorants: Dyes
Reactive, acid and disperse dyes developed for ink-jet printing traditionally have excellent fastness, runnability and color gamuts. Significant new ink-jet dye developments shown at ITMA included:
Japan-based Mimaki Engineering Co. Ltd.'s two fluorescent inks for its TS300P-1800 ink-jet textile printer, and India-based Kothari Info-Tech Ltd.'s high-energy disperse fluorescent inks for direct printing on polyester fabrics;
Switzerland-based Archroma's Inkpresso

®

system developed in conjunction with Switzerland-based Ink-Situ AG, which claims to eradicate the costly problem of expired inks by providing colorant in powder form that can be stored and mixed on demand by the printing facility;
Singapore-based DyStar Singapore Pte. Ltd.'s first-to-market Jettex

®

vat inks; and
Singapore-based Huntsman Textile Effects' Novacron

®

XKS HD reactive inks that are specifically designed to deliver deeper shades, particularly black with a significant increase in depth, and are suitable for use with Kyocera printheads.
Jettex vat inks are commercially available in a CMYK set. However during the second quarter of 2016, the company plans to release eight additional vat colors to increase the CMYK color gamut, followed by five colors developed for the military camouflage market expected to be commercially available during the fourth quarter of 2016.
Developments such as the Inkpresso system may further improve sustainability benefits of ink-jet printing. "A major component of ready-mixed inks is water," said Rainer Roesch, head of global business development, Archroma Textile Specialties. "This, however, leads to higher transport costs, increasing environmental impact and reduced shelf life. The Inkpresso system enables mixing of the required ink on site and on demand." The main component of the system is the Inkpresso Ink Formulation Unit (IFU), where eight color modules are available.
Pretreatment
England-based Technijet Ltd. showed its unique pretreatment technology. Swiftjet, a compact model meant to work in-line or separately from the ink-jet printer, uses a spray rather than pad application of pretreatment. Varying the spray drop size enables the pick-up and amount of pretreatment to be changed based on the substrate. The spray application, while allowing precise control for flat woven and knitted fabrics also is suited for pile fabrics that may be crushed during a padding process.
Lubrizol Corp., Wickliffe, Ohio, showed two new pretreatment technologies that dramatically improve digital print quality of pigmented and direct dye sublimation inks for textiles. PrintRite™ DP 300 Series pretreatments are waterborne formulations that extend the pigment color gamut by bringing the colorant closer to the fabric surface and preventing ink migration. The pretreatment provides more vivid colors, darker blacks, sharper definition, and excellent wash durability, without affecting the fabric hand. "It's truly a whole new wow factor for digital textile printing," said Kelly Lawrence, global marketing manager, Lubrizol Performance Coatings. "Our new PrintRite DP 300 Series pretreatments are transforming digital textile printing by enabling completely new levels of performance. And perhaps the best part — due to the excellent adhesion of ink to substrate via the pretreatment, a topcoat is not necessary, so there is very little change to how the fabric feels to the touch."
Digital Printing Outlook
The development of ink-jet printing machines has reached a level of performance that meets market needs in terms of printing efficiency and speed. While single-pass printers offer speeds and prices that are competitive with rotary screen printing, class 1, 2 and 3 printers often meet the needs of sampling, prototyping and specialty print markets. Research and development in machine technology such as variable drop sizes in printhead, fabric handling, nozzle failure and fabric wrinkle detection systems as well as chemistry developments in colorants and pretreatments have improved printing efficiency, lowered costs and increased color gamuts. For successful implementation of this technology, research and development should shift to pre- and post-chemistries with a focus on water and price reduction; and supply chain management with a focus on substrate development.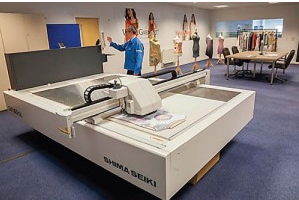 Based on data collected on reactive high-speed digital printing, costs now are comparable to rotary screen printing. Table 3 shows a comparison between screen printing and digital printing costs when printing the same image file. The costs of the 12-color design was compared using a rotary screen printing machine and the Lario single-pass digital printer from MS Printing Solutions. While this comparison doesn't represent all types of prints, it does give a snapshot of real costs possible when converting from rotary screen to digital printing. Data from the table indicates that ink costs are higher for digital printing, while labor and energy costs are lower. Reactive inks, one of the first colorants developed for digital printing, range in price from $25 to $50 per liter, while pigments range in price from $50 to $90. It should be noted other advantages of digital printing that come into play include a no-cost impact for small run sizes for, as well as a no-cost penalty for number of colors. Other advantages of digital printing include reduced environmental impact, and higher uptime of the printer because of no screen changes.